Book #4 THE BOOK ABOUT JAMES
Coming in 2014, but for now, here's the first look at the introduction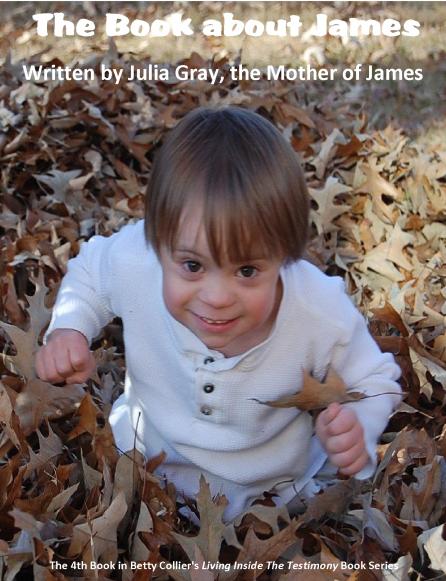 I remember Julia from high school. We ran track together and graduated the same year. Why my brain remembers certain things from over thirty years ago is a mystery to me, but I do recall that she was a sweet girl, very pretty, and she had gorgeous teeth. We didn't keep in touch after high school, but our paths crossed again in 2009 when we became friends on Facebook.

Because it had been quite a while since I had seen Julia, I glanced through her profile on Facebook and saw this post about herself: "Have been blessed with a wonderful husband and 9 children. I don't have the life or fabulous career I always thought I would - for that I am very thankful!" YIKES! Julia had 9 children. With curiosity getting the best of me, I sent Julia a message, assuming I must have misinterpreted what she posted, but she assured me, not only did she have nine biological children, but she had given birth to each one individually – on nine different occasions.

So that's how our reunion began from the last time I saw Julia in 1983, until my discovery in 2009 that she had really birthed nine children. I couldn't figure out how old her children were at first glance, but it appeared some were already grown and moved out of the house, while others were very young, not even in kindergarten yet. How intriguing this had become, but because it had been so many years since I had even seen her, I didn't want to pry, or worse, I didn't want Julia to think I was stalking her. Hence, my silent Facebook stalk began…

One day I made another amazing discovery: a photo album Julia posted entitled "James' 1st day Farmington Elem. Preschool" with ten beautiful pictures of this precious three-year old baby boy.

Below one picture was a comment from Nancy: "What a cutie! The backpack is almost bigger than he is! They start to school at THREE now???"

And with the same wit I remember Julia having in high school, she replied,"Yes Nancy, we must get them from under their parents and put them under govt. rule as soon as we can before they get all messed up by people who live under the illusion that they can think for themselves...did I digress? James is going to a special needs preschool at Farmington. I'm told by the experts that it will be wonderful for him and he can get his needed therapies there. I'm giving it a watchful try. Thank goodness he comes home before lunch."

James is now a very happy and healthy 6 year old who just happens to have Down syndrome. For the past three years, I've seen Julia's comments about him on Facebook, but she had no idea I was even reading them. I've come to learn that Julia is an extraordinary mother, a Christian woman who has put her family in God's hands, and leans on her faith and unconditional love daily. After reading some of her posts, I really started thinking about James and what Julia said about him.
Sometimes I call him Jackpot because I feel we hit it with him!
What I thought at the same time in my life was so devastating turned out to be more than I ever dreamed would wonderfully, blissfully be part of my life!
When he was born I thought it was a tragedy - I was a FOOL! Now I am just a fool in love. His chromosomal enhancement has enhanced our lives supernaturally. I cannot explain it and would NOT change it - FEAR NOT!!!
Then I discovered a quote she posted about her husband: "Right after James was born and I was so NOT happy about the whole Ds thing, Kevin said something like, 'Big deal. I bet he won't be a Jerk. You can't test for that.' I immediately felt better." Wow! I knew right then that Kevin was a keeper.
After thinking about James, I started thinking about "The Book of James" in the bible, which is an example of practical advice and wisdom, consisting largely of moral precepts and examples. Then I started thinking about how inspirational it would be if Julia would take all of the wisdom and revelations she has learned over the past 6 years and write a book about James. But then I started thinking about the thousands of books which have already been written about Down syndrome. What else can possibly be said about raising a child with Downs?
Then the answer came to me. No one has ever written a book about James. The biblical James calls himself "a servant of God and of the Lord Jesus Christ." Julia calls her son James "a gift I never wanted yet now can't believe I was blessed enough to receive." I simply call it the beginning of the book about James. It's certainly not your ordinary book about Down syndrome, nor is it a sappy book written by a mother professing her unconditional love and devotion to a child born with special needs. Although Julia is a Christian with very strong beliefs and faith in God, you will not find this to be a preachy book with mini-sermons on unconditional love and childrearing the Lord's way. Instead what you will find is a remarkable and heartfelt story of being given a gift you never thought you wanted, only to discover you cannot imagine living without. In an Erma Bombeck sort of way, Julia's uncanny sense of humor will take you on a spiritual journey of what was first thought of as a terrible tragedy. The roller coaster of emotions and adjectives that come to mind will engulf you from the very beginning, and you will soon find yourself mesmerized and fully engulfed by her passion and love.
Much like Erma Bombeck did from 1965 to 1996 by writing over four thousand newspaper columns chronicling the ordinary life of a mid-western suburban housewife, Julia possesses that same unique humor. She is the 2012 version of a mid-south suburban stay-at-home mom, living an "ordinary" life with 9 children, the youngest of the brood being James, the subject matter for which she has found the most compelling reason to write a book. So let's begin this odyssey of fifty newspaper columns all about James.
Erma Bombeck said, "I take a very practical view of raising children. I put a sign in each of their rooms: "Checkout Time is 18 years."
I think it's time for Julia to start praying for James' future wife right now. After all, the bible says in Proverbs 18:22, "He who finds a wife finds a good thing and obtains favor from the LORD." There's absolutely no reason why James will not be able to read the sign on his door, so he better start looking for his wife soon. He has no excuse!
---
READ AN EXCERPT FROM JULIA'S AWARD WINNING STORY BELOW

This is only the first newspaper article. The book will feature 50 articles, so prepare yourself to laugh and cry along the way as you discover what the book about James is really about.
How I Came to Know I had Faith
Written by Award Winning Author, Julia Gray
The doctor and nurse seemed to have no concerns, but I was at a disadvantage from my very vulnerable position and couldn't tell what was going on. I was concerned because James was not crying, and everything seemed much too calm. I looked in the bassinet and saw James for the first time. I immediately knew the undeniable although nothing had been identified on the numerous ultrasounds I had throughout the pregnancy. "Does he have Down syndrome?" I asked calmly hoping with all my heart they would laugh at my ridiculous question. The nurse responded sincerely, but with a little giggle, "Now why would you say that?" My dear husband confirmed my fears in his matter-of-fact response, "Well, look at him." He could respond that way because he knew whatever the Lord had given him, he would accept, but I wrestled with what I knew to be true.
Terrible scenarios raced through my mind. I could leave my husband and other children behind. I could abandon James. I could smother him. I was horrified that I would ever think like that even for one moment, but I did. I never would have acted upon any of those thoughts and was guilt-ridden because they had even crossed my mind at all. I felt trapped and was absolutely devastated.
At that moment, a peace came over me, albeit shaky, but I began to see a glimmer of light. God had already laid the foundation for me to be able to withstand this. I knew that I must go through no matter how badly I didn't want this to be my life. I remembered a bible study class from a few years prior to James' birth. We were discussing how God will send trials into the lives of those he loves. I was troubled that my life had been one of relative ease. Even more troubling was that God might love me so much that he would send trials my way. This made me wonder if I truly had faith. If I was confronted with a serious trial, would I still trust God?
This question nagged me for a while, but would be answered one dark December day, the day after we buried our newborn daughter. Meredith was born perfectly healthy in the eyes of the world and would have suffered none of the problems we feared James would suffer, yet she was dead and buried. There had been a happiness and supernatural peace at her funeral, but as I stared into our backyard the day after, there was no peace. It was cold and raining. My heart broke as I realized the baby I should have been protecting was in the ground in that terrible weather. What kind of mother leaves her child in such conditions? Instantly peace surrounded me again.
Meredith was not alone in that forlorn ground. My baby was with her heavenly Father in a much better place than my aching, empty arms! In that divine moment, I realized that I did have faith. Faith that got me through that time would get me through many more situations, including not only accepting James, but falling in love with him. What I thought was so devastating became more than I ever dreamed would wonderfully, blissfully be part of my life!